To Solar or Not – That's not the only question. We all are trying to do our part. Recycle, re-use, be more environmentally sensitive. In Arizona, you would think that adding solar to you home would make really good sense. Then the money you save on electricity every month would actually add value to your home when you are ready to sell because solar saves you money. Win – Win Right?
Well, not always.
Here's the head scratcher. Solar can be fabulous. But when a solar lease is involved it can complicate matters. A few things to keep in mind.
If there is a solar lease, a buyer must qualify to assume the lease. As that lease is another monthly debit (like a car payment) the lease payment will also impact the buyers debit to income (DTI) ratio with their lender, this could impact the buyers ability to qualify for the loan on the house. Money saved on utility bills is not taken in to account for the borrower.
Fanne Mae Guidelines issued this year also state the lien for the solar panels must be subordinate to the first lien (the loan).
Fanne Mae will not loan on a property with solar panels unless the lease agreement is free of restrictions that prevent the borrower from freely transferring the property.
Appraisers typically give no value on an appraisal to a property with a leased system. If the system is owned, some value will be given, but it is subjective to the appraiser. And like all new things, it takes education to become familiar with solar panels and values.
If you are considering solar panels for your home, a few questions for you to consider.
How long do we plan to stay here?
What are the terms of the lease? Is there an increasing payment per year or does the interest rate for the lease increase?
Am I able to purchase the lease out right? And if so are there any prepayment penalties?
If I have a new roof on my property, will the instillation of the panels void the warranty. Conversely, if I need a new roof how will that impact if I have panels on the roof?
Does my HOA allow Solar panels on the roof?
What other energy saving items could I consider before solar?
If you are planning on moving in the next 3-5 years maybe even 7, solar may not be the best fit for you. Your monthly lease payments may not be offset by the cost savings. Additionally, solar leased panels have impacted the marketing of a property more neutral to negative rather than increasing value. The appetite for buyers to pay more for this feature is just not there, at least not yet.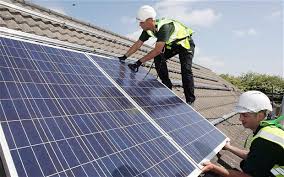 As to the last question, an agent friend mentioned that her sellers had recently put solar on their home and then were disappointed when that didn't dramatically increase the value. Unfortunately, another option for them might have been upgrading their windows from single pane to dual or low e windows. Another option is having an energy audit performed at your home. Arizona Public Service (APS) provides these audits for $99. This may help you get started to making your home more efficient.
Short term, solar leasing may not be the way to go. If you are planning on being in your home for 10 or more years, then it could be a great idea. Do your research, interview different solar providers, look at the lease language and for the latest in how it could impact your neighborhood, give me a call. Happy to discuss what's trending in the market and how to add value to your home.s