I love the start of a new year. It's a clean slate, fresh start, new beginning. It's also a chance to dust off my crystal ball and look deep into the next 12 months of what to expect.
Each year, I try to make my New Year's Real Estate predictions. What I think will come to pass based on where we've been in the previous year. Looking back, we had a really stable market in 2016, an increase in values that was stable and not crazy. Slow rise to interest rates, really low inventory in some price ranges and lots of good inventory in others. More on what is good inventory in future posts but for now, take a look at #3. Actually, take a look at the top 6 things that I believe will shape real estate in 2017,
Interest Rates will Rise & Stay Historically Low. I know, it sounds like I've contradicted myself. But the rates we have known in the last 2-3 years have to go up. They have already been creeping this year. But, they are still lower than in 6% 2000, lower than in 1998 and like 10 points lower than the early 80's when it was financing a house on a credit card. The Fed has been signaling the rise for sometime now. It should be no surprise. So if you are thinking of getting into the market, now – go time is now.
Negotiations will be harder. For buyers, please know that every price range in every location is different. You are not going to be able to negotiate 15-20% off a list price as a general rule of thumb. So listen to your agent, council with your agent, ask your agent. The same is true for sellers. Listing your beautiful property 10-20% above the most recent sale is a bad idea. One word – APPRAISALS. Most buyers are getting a loan. The lender requires an appraisal that is going to carefully analyze the market. If the sales price is too high, no loan = no buyer = no sale. Unfortunately sellers typically learn this about 10 days prior to close, which is tough. They have moved on with life, found a new property, started packing and the rug is pulled out from under them. So listen to your agent, council with your agent, ask your agent. We don't want to leave any money on the table either.
Clean is King & Fix It Before You List it. No one wants your dust bunnies – they don't add value. And if you don't have enough pride to clean your home when you're trying to sell, what else did you neglect? That's what buyers will be asking. Oh by the way, those same buyers will get a home inspection. If the buyer finds items to be repaired, it can cost you 3-4x's more to fix than if you had just done it yourself in the first place. I strongly recommend a pre-home inspection so you know what you've got and can take some of the mystery out of the process. It goes faster and usually you net more money.
Shiplap is dead. Seriously, stop asking for it. Think about those white washed cabinets from the early 90's or avacado green appliances, shag carpet? It immediately dates a house, it's hard to clean and terrible to take down. I love Chip & Joanna too, but stop it!
Proof of Funds or Prequalification is a must. Please re-read #2. Now, buyers the market is more competitive especially in some price ranges. There is not the inventory that we used to have. If rates go up demand usually does as well. If December is any indication of what is to come in 2017, the starting gun has already gone off. Know how you are going to pay (have a real plan) before you go looking. You may loose out on your dream home because you didn't have your ability to pay. (PS many sellers are requesting their property only be shown to pre-qualified buyers and many agents are requesting that before taking you out. We just want to protect you).
Don't Wait for the Listing Season. If you are truly serious about listing, call your agent now. Inventory is lower than anticipated. Off times is a really good time to get noticed and sell your property with less competition. But please see #3 if you think you're ready.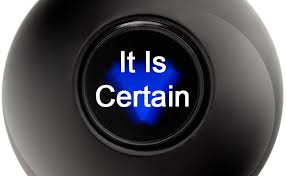 So to be fair, sometimes my crystal ball is a lot like a Magic 8 Ball. But this is what I do know after 18+ years in real estate in Arizona. People love the Arizona lifestyle. We have perfect weather, amazing views and a relaxed way of life. As a result, I do anticipate a very busy 2017 in real estate. I believe people are working hard to make good decisions and smart choices with their money. I don't see it getting crazy. Healthy, tempered and we are going to grow in Northern Arizona. New subdivisions breaking ground and construction on in-fill lots. I am excited for that and do believe it will help our resale market. It is still more expensive to build than buy resale. So, when it comes to resale properties clean it, fix it, love it. And when you're ready to buy or sell, I'm here and ready to help.